02 Aug

Organisation is key for warehouse manager, Wayne Howes

It's still early when our warehouse manager, Wayne Howes, crosses the Dartford bridge over the Thames to get to work in Paddock Wood.

Arriving at 7.30am means he misses the bulk of the traffic so he's more relaxed when he starts work as he knows there's going to be a busy day ahead.

"July has so far been the busiest month this year," he says.  "We're just preparing an order of 500 counter loop kits that's heading for the Middle East.

"A kit is all the components required in a system, so the customer has everything they need for installation.  We break it down to each individual item to make sure the customer has everything they need for installation.  We have to ensure accuracy on delivery."
The Warehouse Team
Wayne oversees a team of three – supervisor Chris, Graham who's responsible for dispatch and Nikki who is an operative in the warehouse.  Wayne joined Contacta in 2010 and worked his way up to warehouse manager.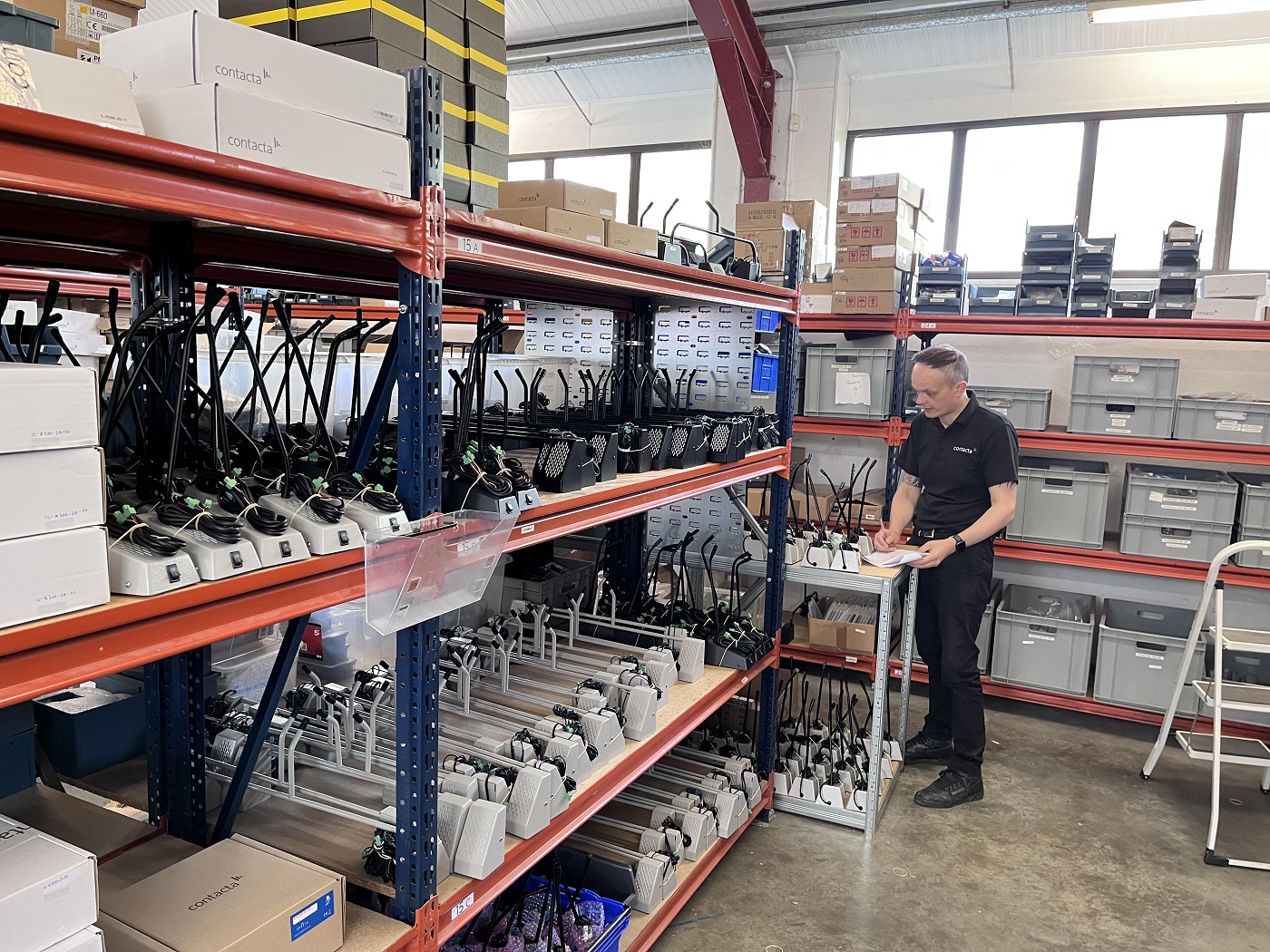 "We're a very busy warehouse and I like being across everything that's going on.  We can ship out thousands of products each month and we have to be organised to achieve that!"
In recent times, Wayne has had the challenges of dealing with the triple impact of Brexit, COVID-19 and the war in Ukraine on Contacta's supply chain.  Prices of some goods have increased without notice and there have been shortages of components, wires and packing materials like cardboard boxes.
"Lead times for boxes doubled from 3-4 weeks, to 8 –16 during COVID," Wayne remembers.  "I look for the best deal if prices go up and liaise with our technical team to make sure anything I order meets their needs in terms of protecting the product for shipping.
"We have also seen an increase in shipping delays and problems due to Brexit regulations and limited flight availability.  What's most frustrating is when we've worked hard to get an order out on time and then it gets stuck in customs or is delayed in transit and disrupts the customer's plans!" says Wayne.
Stock that Wayne has ordered from our UK suppliers enters the warehouse. Chris will print and check each order on the assembly lines, the team pack what's required and dispatch it to the customer.
Contacta supplies assistive listening systems worldwide so orders leaving the warehouse in Kent could be going anywhere from Thailand to Spain, India to Canada.  The network of dealers and installers managed by Contacta Inc. in north America receive their products from Wayne and the team too.
Contacta's export distribution network is growing which brings with it new challenges too.
"I like making sure we have everything the customer needs.  There's good communication between us and the head office staff.  We are a close team and members of the management team often pop in to see us or I'll pop over there.  We have regular weekly meetings with our sales and general management which I attend, and this helps effective planning of our operation here at the logistic hub."
At the end of a busy day, the dad of two heads home, back over the Dartford crossing.  "I really like working for Contacta," says Wayne.  "They've been probably the best company I've worked for.  I've always worked with a great team around me and we work well to achieve and complete so many orders each month.
"It's just the journey home that's a bit of a lottery – I just have to hope the traffic's not too heavy!"