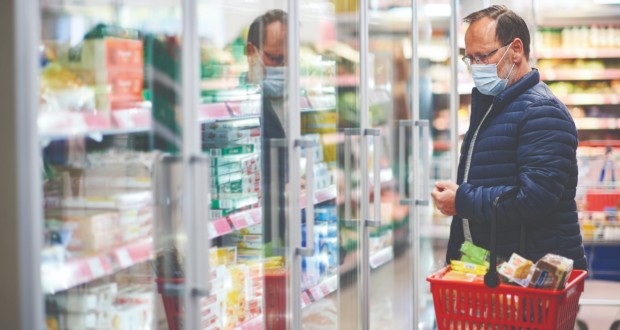 22 Jul

Support shoppers with hearing loss when masks become compulsory

The 24th July sees masks and face coverings become compulsory for shoppers in England.  Anyone entering a shop or supermarket needs to be wearing one or face a fine of up to £100.

There are exemptions for people with additional needs, including those with hearing loss.

Anyone with someone who relies on lip reading will be exempt from wearing a mask.  It will also be acceptable to remove your mask if you're speaking to someone who needs to be able to see facial expressions or hear clear sound to communicate.
A hidden disability
Hearing loss is a 'hidden' disability so it will be difficult for shop staff to identify those people who are allowed to de-mask.  And the use of clear or 'window' masks, where the wearer's mouth can be seen, is limited.
But technology can go some way to avoiding awkward situations or the person with hearing loss having to identify themselves as such.
Hearing loops can help
Hearing or 'induction' loops at till points and service counters mean customers wearing a hearing aid can hear staff clearly.  By switching their hearing aid to the 'T' position, the staff member's voice is transmitted directly into their hearing aid via a microphone, cutting out background noise.
With these in place, and clear signage to show they are there, there should be no need for the customer to discuss their hearing loss.  Communication is clear and masks can stay place, helping to protect everyone involved.
Find out more about one-to-one hearing loops.
While the prevalence of protective screens and barriers is growing, not all of them will meet the needs of customers with hearing loss.
Intercom or 'speech transfer' systems help shoppers hear more clearly through these partitions – but if these systems have hearing loops, retailers can be confident they are offering an inclusive service that preserves shoppers' dignity and gives them the best customer experience.
See our latest range of speech transfer systems
Raising awareness
While retailers should already have loops in place, not all do.  And they won't always be working.  Staff might not have been made aware that loops are in place and so won't be able to support shoppers who need them.
With the deadline for mask-wearing fast approaching, the charity, Action on Hearing Loss, is urging retailers to make sure that face covers and social distancing measures don't make shops inaccessible for people living with deafness and hearing loss.
You can visit their website, sign their open letter and show your support.